Your Homepage's Goal
The homepage is the most important page on your website. It's where the battle for customers is won or lost. As a small business owner, you must make sure that your homepage is prepared to convert visitors into leads. Is your homepage built to win, or is it a wasteland of missed opportunity?
4 Aspects of an Effective Homepage
Let's look at the four critical themes of a homepage and some components of each. It's essential for each homepage to address each of the following aspects to truly be successful.
First Impressions
In life, and maybe more on websites, first impressions are critical. You're not supposed to judge a book by its cover, but we all do! What's conveyed in the initial half-second a visitor is on your site can prove either costly or valuable to your business.
When's the last time you landed on a website's homepage, only to immediately hit the back button? Why did you do that? Maybe because it just didn't feel right. That's all a first impression is; a gut feeling.
We want to make sure that your homepage is inviting, beckoning users to read some more. Let's explore some variables that affect first impressions (Related: 8 Reasons People Leave Your Website).
Design: It is important to make sure that the overall format of your website will be well-received by your target market. A website designed in 2018 will better relate to customers than a website built in 2000.
Colors: There's a science behind colors and the emotions that they convey, so pick carefully. You also want the colors used to properly reflect your brand. For example, if you're a yoga studio, you may want to use the color green, as it portrays the emotion of peace.
Imagery: Just like colors, imagery has the ability to greatly influence a customer's decision to stay on your website. Make sure you use images that are pertinent to your target market.
Usability: I want to visit a site that can get me what I need with the least amount of effort. Most users don't like being overwhelmed. Music or advertising that autoplays can be frustrating for the user and distract and detract from your message.
Familiarity: When building a website, make sure your site is designed with standard structuring in mind.  Users don't like to search for what they need.
Business Proposition
Did you know that 55% of visitors spend less than 15 seconds on your website? Click to Tweet! That's not a lot of time to convince, so we must work quickly. The best way to convince customers to explore more of your website is to provide a compelling value proposition.
A value proposition can be as simple as one sentence, but it must convey the primary reason a customer should do business with you. A value proposition must do each of the following.
Speak directly to the intended audience
Explain a solution to their need/want/problem
Deliver specific benefits
Separate you from your competition
Here's an example of a value proposition: "When you have home plumbing issues, Joe's Plumbing Co. responds within the hour to provide quick, quality repairs. Your home is too important to you, to your family and to us to risk severe damage."
Trust
You've shown the potential customer that you can meet their need with your value proposition, but now you need to gain their trust. We can gain the trust of a customer in many ways.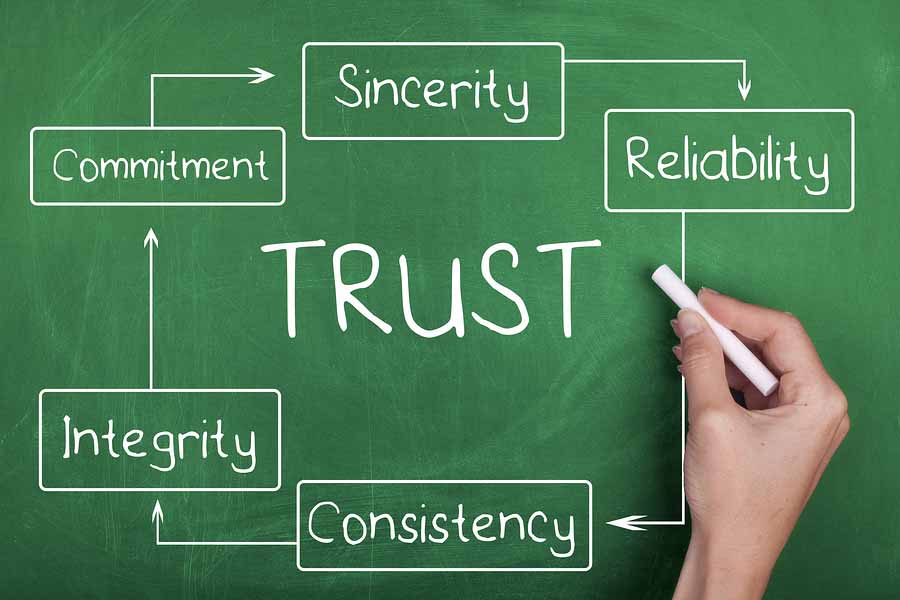 Testimonials: Showcase a review or testimonial on your homepage. Also, link to your testimonials page or a third-party review site like Google +.
Certifications: Are you certified to perform the services? Do you sell products that meet specific requirements? Not only can this set you apart, but it gives credibility to your business.
Examples of Work: Pictures speak louder than words. An easy way to display your work is through pictures.
Case Studies: Maybe you've created a case study to showcase a successful client. Make that available for download.
Links to Social Media: Social media is how businesses interact with consumers. To a degree, it's your business's persona. Social media can make it easier to build relationships. It humanizes your brand.  In fact, many website visitors will research a company on social media before making a decision to buy from them.
About Us Page: Link to your About Us page, where customers can learn more about your business's story.
Call to Action
The final, and probably most important, aspect is actually asking the potential customer to take action. We can perform the previous 3 aspects flawlessly, but without properly implementing a call to action, we will have a lower conversion rate. Simply put, a homepage without action is dead.
Action can come in many forms: subscribing to a newsletter, calling your business, filling out a form, downloading an eBook, etc. When someone takes action, we gain anything from information about them to a sale.
A quality call to action on our homepage will engage customers and increase conversion rates. If we can convince a customer to take action, we create an opportunity to sell them our product or service.
Below is an old call to action from our website! "Let's Get Started!"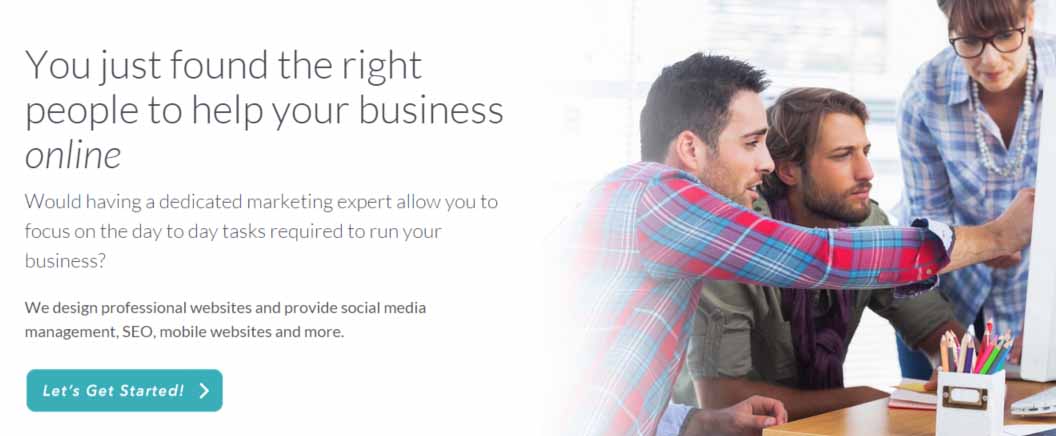 Convert More Visitors Into Paying Customers
We've learned about 4 critical aspects of your website's homepage. Building a website with first impressions, business propositions, trust and action in mind will allow you to create a homepage that converts more visitors into paying customers.
It's important to remember that these fundamentals work hand-in-hand and overall success is dependent on just that. When implemented correctly, the results can be amazing!
Do you need a website that converts visitors into customers? A quick consultation will show you how to do just that for your business.